Hey folks, my name is Luke Fowler at Larry H Miller Liberty Toyota here in Colorado Springs. I wanted to thank you for taking the time to watch this video. 
What I have pulled up right now is a 2019 Toyota Tacoma. This truck comes in five different trim levels. The one I have pulled up now is a sport and it is an access cab with manual transmission.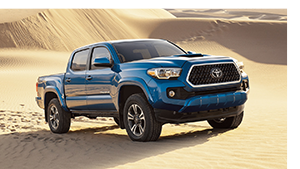 So, the manual is a six-speed. The other option is an automatic transmission. The sport comes with the hood scoop on it and it also has Bilstein shocks, just like the TRD off-road. The main difference is this is going to be tuned for more of a street or highway driving, where the off-road is going to be more for off-road conditions. You do have navigation and also have the Toyota safety system. 
Toyota Safety Sense comes with the automatic high beams, lane assist and the dynamic radar cruise control. It also comes with the pre-collision system. Now with the TRD sport, you do have a six-foot bed when you get it in the access cab model. It also has an easy let down so it's not going to slam as soon as you open the door. 
Now in the back here, you also have a little bit of storage along with an actual power outlet. You've also got this deck rail system which is an option and can be moved up and down. The rail can be taken off if needed for storage.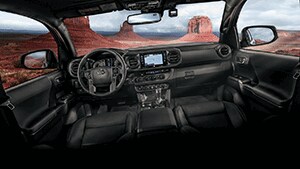 They do also come equipped with a backup camera along with your tow package. The tow package comes with both setups for brake lights. If you need it in this color we have here, is the quicksand. 
I'd appreciate it if you guys would come and stop by. My name is Luke Fowler and I work at Liberty Toyota Colorado Springs. Thanks!
Schedule Your Test Drive Today