My name is Kegan Salazar, and this is the 2019 Toyota Camry in Colorado Springs. We can see in 2019 they went with a little bit of a sporty look, especially on the SE models. So, you've got the 19-inch alloy wheels. A little bit more aggressive front end over here compared to last years. Of course, the two-tone paint which just sets it apart from a lot of other cars on the road.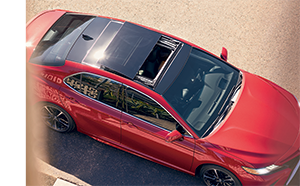 With 2019, we started a lot of the safety features this one comes standard with all of them. So, you have a front sensor for your dynamic radar cruise control and pre-collision system. As well as the camera that operates with three other cameras on the car and gives you a bird's-eye view camera of the car. Blind spot monitors on the mirrors here, as well as of course the backup camera in the rear. Parking sensors all the way around that keep you safe in parking lots. 
So, as we get inside the 2019 Toyota Camry you got a push button start here, and this is going to have the premium audio package with the JBL sound system. The big eight-inch display and a newer bigger multi-informational display in the middle here. So, this display has your navigation, your audio, and a FM Bluetooth XM radio. In the 2019 Camry, Apple Carplay is available, and you have a Qi wireless charger here. There are also charging ports in here. So, when you look at the interior here, they definitely step up the game a little bit with the leather trim seats and the heated power adjustable passenger and driver seats. You have the panoramic sunroof also.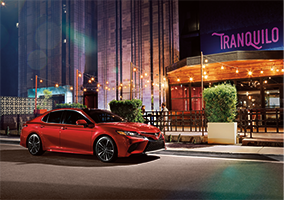 Might be kind of hard to capture on here but, it goes all the way back the whole length of the roof. Large spacious backseat and of course, the very large Toyota Camry trunk features fold down rear seats. The 60/40 split gives you that nice pass-through area for extra-large cargo. 
There is a lot to talk about with the new 2019 Toyota Camry in Colorado Springs. If you have any other questions you can come in and see us here at Larry H. Miller Liberty Toyota in Colorado Springs. Come see the new 2018 Toyota Camry at
Larry H. Miller Liberty Toyota Springs today.
Test Drive a New Camry Today