Hi everyone, welcome to Larry H Miller in Liberty Toyota. My name is Jessica and I'm going to show you one of my absolute favorite vehicles. The new 2019 4Runner in Colorado Springs! The model we're looking at is the TRD off-road premium. 
The cool thing about the 4Runner, as most people know, it's kind of the last of its kind. It's a true off-road vehicle. It is a body-on-frame vehicle so, it gives you a superior off-road ride. As you can see from the outside, we've still kept the body style the same because everyone loves it. The cool things about the off-road premium though, are going to be the things you can't really see. One of the really cool things about this is, you can get it equipped with something called KDSS. It's a kinetic dynamic suspension system. It's great for that off-road experience. When you kick it into four-low, it'll help you keep that balance so you're not going to tip over. It'll actually balance out your tires for you. So, instead of this one touches the ground and that one in the back lifts up it's going to balance them out. 
Some other cool things about this car are actually going to be on the inside. So, I'm going to jump inside to show you some of the other cool off-road features. So, what makes this a TRD off-road is these controls right here.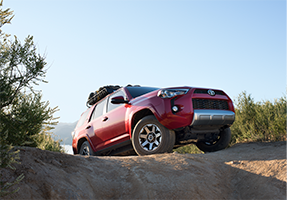 You have a crawl control which works wonders when you're in that four-low using your four-wheel drive. You'll adjust it to a low, medium or high based on the kind of crawling you're going to be doing. This is for the avid off roader. So, you can go from just a slight crawl and needing a little bit of assistance to hot cranking it all the way up and this thing is going take you over boulders practically. It's one of the coolest features about this car. You also have the terrain select. So, if you are on a sandy terrain you can choose the sandy terrain, if you're on a rockier terrain you can choose the rockier terrain. This car truly is made to work with you and not against when you're outside and having fun. Which we're in Colorado so it makes perfect sense. 
Now this is the four-wheel drive system some of the other 4Runners have a dial system. This is actually a little easier in my opinion because all you do is crank it down and you're in four-high. You can do this going up to 50 miles an hour even. So, it's a pretty cool assist and it works wonders here in Colorado Springs.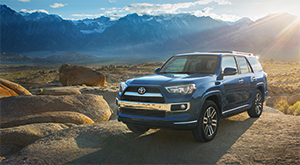 Now, I want to talk about why this is the premium off-road. So, you can get all these features in a regular off-road but what makes this special is the leather seats with the red stitching with the TRD in it. You've got heated seats which again we're in Colorado so who doesn't like that. Then you also have the burner, so you get your off-road experience with a little bit of luxury. 
Honestly, I think this is probably the coolest car for Colorado and I'd love to help you out with getting your new 4Runner! Come see me anytime at Larry H Miller Liberty Toyota and we'll help you explore Colorado in the brand new 2019 Toyota 4Runner.
Test Drive a New 4Runner Today