Welcome to the Colorado Springs Toyota Service Center

We all know maintaining and servicing your vehicle at the proper time and mileage is key and can prevent you from needing major auto repair. But, oftentimes it's easier to have

someone else change your oil and top off your fluids for you. And, who really wants to go through all of the trouble of rotating their tires? 
The professional team at our Colorado Springs Toyota auto repair center, offers a 
convenient alternative to all of your auto needs. Regardless of whether your car
is a new Toyota or a gently used car, we'll give it the TLC it needs to look in its 
prime and deliver optimal performance for a long time to come. We offer the 
best options to maintain your vehicle and optimize your safety, performance 
and fuel efficiency.
The
Larry H. Miller Liberty Toyota Colorado Springs Service Center
is devoted to providing customers with exceptional customer service.
Contact our service department today to schedule an appointment at 866-542-5658
.
Liberty Toyota Oil Changes
Changing your oil every few thousand miles is one of the most important things you can do to care for your care and make it last longer and prevent future major auto repair. Take care of your car and bring your vehicle to Liberty Toyota in Colorado Springs. Our service team has experience with a wide variety of vehicles and can change the oil in most vehicles, whether it's a Toyota, Chevy, Ford, Hyundai or another model. 
Liberty Toyota Brake Service
Every time you drive your car you're relying on your brakes to keep you and others safe.  Make sure your brakes are at their recommended levels of performance with our brake evaluation.
While your brakes themselves are a critical component of your car's performance, you'll also need to consider replacing your brake rotors. Bad rotors can cause many problems including:
Squealing or grinding noise during braking
The "grabbing effect" - which is the act of your vehicle pulling to one side
Pulsation of the brake pedal during the act of braking
A clicking noise during braking.
If you've experienced any of these problems or if it has been several years since you had your brakes replaced come into the dealership to have them checked out by one of our certified professionals.


Liberty Toyota Tire Store
Colorado's ever changing weather and windy roads mean that you're putting more wear on your tires than in other places. Having good tread on your tires helps grip the road and keeps you from sliding during a winter (or even spring) snowstorm. It also adds extra protection during our rainy season and drives.  


Liberty Toyota Engine Service
Some people see this light come on and their heart drops - they worry that it's going to be a major expense. It doesn't have to be. When you see this light come on the best course of action is to bring it into our dealership for a diagnostic test. We'll find out why this light came on, explore the issue further and give you our assessment of what's wrong and what it will take to fix it.  Ignoring this light isn't something you should do - that will cost more in the long-run.
Liberty Toyota Black Diamond Cafe
While you're waiting for your vehicle to be serviced, please enjoy free refreshments and beverages for purchase, as well as free popcorn in our Black Diamond Cafe. Our cafe is stocked with coffee, hot chocolate, water, popcorn and a sink and microwave. Our leather seating area provides comfortable seating and two flat-screen TVs. Free WiFi in our dealership allows you to stay connected during your visit. 
Dealership Hours
Monday

7:00AM - 6:00PM

Tuesday

7:00AM - 6:00PM

Wednesday

7:00AM - 6:00PM

Thursday

7:00AM - 6:00PM

Friday

7:00AM - 6:00PM

Saturday

7:00AM - 5:00PM

Sunday

Closed
See All Department Hours
Dealership Hours
Monday

8:00AM - 9:00PM

Tuesday

8:00AM - 9:00PM

Wednesday

8:00AM - 9:00PM

Thursday

8:00AM - 9:00PM

Friday

8:00AM - 9:00PM

Saturday

8:00AM - 8:00PM

Sunday

Buy Online 24/7
Parts Dept. Hours
Monday

7:00AM - 6:00PM

Tuesday

7:00AM - 6:00PM

Wednesday

7:00AM - 6:00PM

Thursday

7:00AM - 6:00PM

Friday

7:00AM - 6:00PM

Saturday

7:00AM - 5:00PM

Sunday

Closed
Service Dept. Hours
Monday

7:00AM - 6:00PM

Tuesday

7:00AM - 6:00PM

Wednesday

7:00AM - 6:00PM

Thursday

7:00AM - 6:00PM

Friday

7:00AM - 6:00PM

Saturday

7:00AM - 5:00PM

Sunday

Closed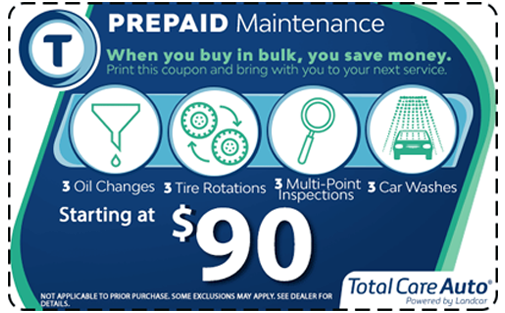 We know that your time is important to you so that's why we offer our Toyota Express Maintenance.  We're the Colorado Springs Toyota experts and we have over a dozen professionals to complete your routine maintenance, oil changes or minor repairs fast.  Call or come by today!  
Or you click here to schedule an appointment online. 

We are proud partners with Clear Point Windshield Repair. We work with Clear Point to provide you with a comprehensive vehicle inspection in one visit at one location. A Clear Point representative may check your vehicle's windshield when you arrive in our service department - looking for any chips or cracks in the glass. Clear Point also works with most major insurance carriers, giving you peace of mind and hassle-free repair. For more information, visit the Clear Point website or see your Toyota Service Advisor.