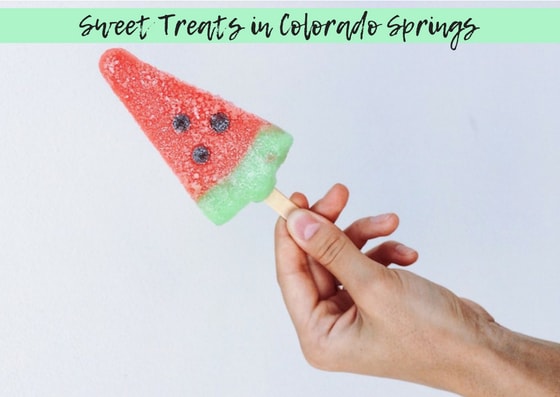 Colorado is known for the Rocky Mountains and the friendliest people you've ever met. However, one of its best-kept secrets is that it harbors some of the tastiest treats imaginable! From gourmet donuts to creamy ice cream, we have some seriously sweet treats in Colorado Springs! Here are a few local favorite spots to grab dessert during the coming summer evenings:

· Amy's Donuts, off Fountain Boulevard, is one of the most highly rated eateries in the Colorado Springs area! Serving fresh donuts, donut holes, fritters, and more, they have specialty flavors like "Bizmallow Caramel," "Crunch Berries," and "Cotton Candy." This is the perfect place for carb enthusiasts or simply anyone who can appreciate excellent flavors. It also makes for a highly original family outing, second date, or late-night snack. Stop by for an undeniably delicious time.

· Are you seeking a healthier treat? Look no further than Josh & John's! Their natural, homemade ice cream presents a sweet way to be gluten-free. They have struck a perfect dessert chord with full flavors and conscientious recipes. Plus, they have a scoop bus that's perfect for your next office party or family reunion. When you show up anywhere with Josh & John's, you're sure to be the most popular person in Colorado Springs.

· Are you seeking something a little more traditional? Trip Advisor suggests heading over to Boonzaaijers Dutch Bakery! They bake the finest European treats, from oliebollen and tea cookies to stollen bread and hot cross buns. Located just off Fillmore Street, you can stop by for the sweetest baked goods or order online. Imagine that—ordering incredible Dutch desserts online! They're making dreams happen.

Of course, you can find some of the sweetest treats right here at our dealership! Our monthly prices paired with the finest automobiles sold in Colorado Springs make for the perfect summer purchase. Swing by our dealership on the very appropriately named New Car Drive. Our sales staff will help you decide which stunning new Camry, 4Runner, or RAV4 to take home. If you ask nicely, they'll also weigh in on which local sweet delicacy to try.