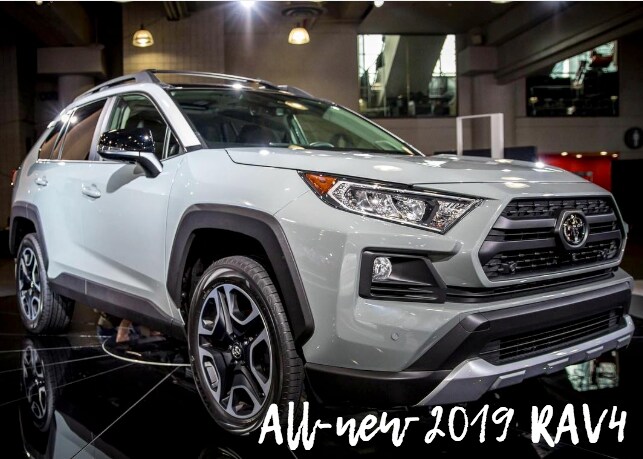 At this year's New York International Auto Show, the all-new 2019 Toyota RAV4 was introduced, and it takes adventure mobile to the next level. If you missed it, these three features will have you anxiously waiting for its arrival this winter.
Elevated Exterior
It's not called "all-new" for nothing. This model takes on an even sportier and refined look than past models. Its presence is dynamic with a lower and wider stance, robust shoulders, a longer wheelbase, and available with 19-inch wheels. The new exterior isn't just for looks either. Its shorter front and rear overhangs make it great to take on off-road journeys, and the multi-link rear suspension will help minimize road noise. Plus, the side mirrors are now placed lower to increase visibility.
Expanded Capabilities
Toyota fine-tuned the RAV4's driving performance, so you'll be able to drive it with confidence. In fact, the first ever Dynamic Torque Vectoring All-Wheel Drive with Rear Driveline Disconnect will help you steer where intended even in rough conditions. In addition, you'll have the ability to disconnect from the need for all-wheel drive, the SUV will reduce energy loss, cut down on rotational vibration, and improve fuel efficiency—all leading to a smoother ride for you and all your passengers.
Expect Efficiency
We're excited to welcome the XSE Hybrid to the mix for those of you who cherish the energy efficiency of your vehicle. You can look forward to class-leading fuel efficiency and more thrill from greater horsepower and acceleration. The goal here is to blend sport and utility, so there is no shortage of driving dynamics with its Toyota Hybrid System II.
With its dynamic look, drivability, and efficiency, the all-new 2019 Toyota RAV4 has all of us here at Larry H. Miller Liberty Toyota ready for this winter when we can take it for a test drive. If you can't wait that long, we can help you find the best Toyota to take your time on the road to the next level. Start your search in our new inventory, and then come in for our Employee Pricing.