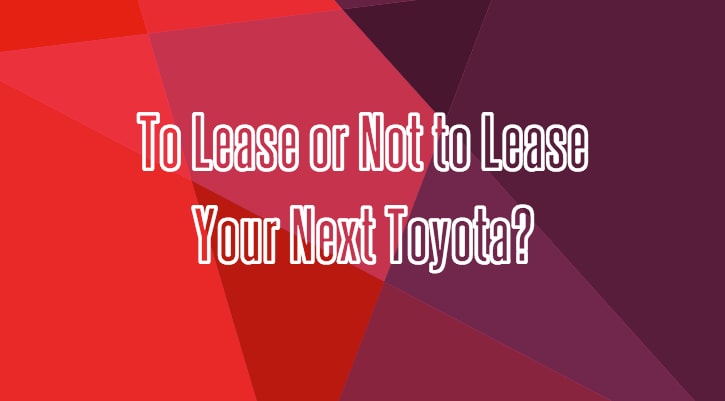 You've walked the lot and talked through all the details on the 4Runner that you've had your eye on for months. You even took it for a leisurely test drive. You've decided that this is the Toyota for you. But now you're stuck on whether you want to lease or buy the vehicle. Let us help you make this important decision.
Monthly Payments
If you're looking for low monthly payments, then leasing may be a great option to get you into that new car without worry of your budget is out of whack. Plus, depending on the terms, you may not have to put any money down, which is great for first-time buyers or if you're trying to save money upfront.
It's important to remember that if you decide to buy out the lease at the end of the term, it may be more expensive than buying it outright. Plus, be sure to take care of your Toyota, because at the end, there could be wear-and-tear fees, just like when you rent an apartment.
Driving Habits
If you are a city dweller or don't drive extensive miles, financing a vehicle this way could be perfect for you. Usually, there is a mile limit per year of the lease to ensure there isn't too much wear.
Road warriors, leasing likely isn't for you. Even though you may be able to purchase more miles per year, those cross-country road trips don't take kindly to mileage counts.
Vehicle Wants
Whether it's entune™ 3.0 or the latest options offered by Toyota Safety Sense™, everyone has features that are important to them to make the morning commute a little more enjoyable or to keep the kids safe. The best way to keep up with the trends? Lease that 4Runner. Because you can easily trade up for the newest model, it keeps early adaptors happy.
If these aspects aren't as important to you and you care more about keeping consistent, then buying is more likely the better choice for you.
Now that you have a better idea of which financing type is better for you based on your monthly budget, driving habits, and what you want in a new car, will you lease or buy? No matter what you decide, we've got the right vehicle waiting here for you. Value your trade online before you head to the dealership. We hope to see you soon!